WELCOME TO "TO YOUR ETERNITY" WIKI
WARNING! This wiki contains spoilers. Read at your own risk!
We are currently editing over 504 articles, 2,804 pages, and 1,417 files.
Administrators • Manual of Style • Image Policy • Recent Changes • New Pages • Help Wiki
---
Welcome to "To Your Eternity" Wiki !
A Wiki dedicated to the Fumetsu no Anata e (English: To Your Eternity) manga series written and drawn by Yoshitoki Ooima.We encourage users to help make this wiki even better.We are striving to turn this place into a reliable source of information for the series. Help us by creating or editing any of our articles!
About the Series
Synopsis
It, a mysterious immortal being, is sent to the Earth with no emotions nor identity. However, It is able to take the shape of those around that have a strong impetus. At first, It is a sphere. Then, It imitates the form of a rock. As the temperature drops and snow falls atop the moss, It inherits the moss. When an injured, a lone wolf comes limping by and lays down to die, It takes on the form of the animal. Finally, It gains consciousness and begins to traverse the empty tundra until It meets a boy. The boy lives alone in a ghost town, which the adults abandoned long ago in search of the paradise said to exist far beyond the endless sea of white tundra. However, their efforts were for naught, and now the boy is in a critical state. Acquiring the form of the boy, It sets off on a never-ending journey, in search of new experiences, places, and people.
Characters
Latest Releases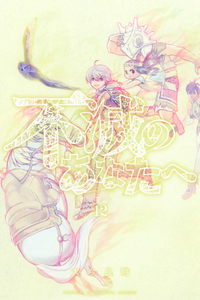 Volume 12


Description: The fight for Renril reaches its peak, but when Kahaku's left hand betrays Fushi and his allies, a great crisis descends upon the city… March arrives in time to see Fushi, but not to save him, and now Bon must mastermind a plan to turn the tide of battle.

Click here for more info about the volume


Affiliates
If you would like to become an affiliate of To Your Eternity Wiki, contact us.
External Links
Featured Video
Twitter
Future Releases
October 2020
Poll